So, America's real life Mr Bean has withdrawn the country from from the Paris Climate Agreement, as he threatened to do. This is quite an achievement when stacked up against other accomplishments in his repertoire of dubious and odious actions since he became president.
As ever, Mr Bean, sorry, Trump, tried to present his latest bumble as being in furtherance of his campaign promise to "make America great."
Speaking during his press conference to announce the withdrawal, Mr Trump said "The United States will withdraw from the Paris climate accord, but begin negotiations to reenter either the Paris accord or an entirely new transaction on terms that are fair to the United States, its businesses, its workers, its people, its taxpayers — so we're getting out,"
"I was elected to represent the citizens of Pittsburgh, not Paris," and "I am fighting every day for the great people of this country," he said.
Mr Bean called the Paris Agreement a massive redistribution of United States wealth, and said it is resulting in fewer jobs, lower wages, shuttered factors and diminished economic production.
"We want fair treatment," Trump said. "We don't want other countries and other leaders to laugh at us anymore."
The reaction has been fast as it has been furious. Former vice president Al Gore released this statement in response to the withdrawal.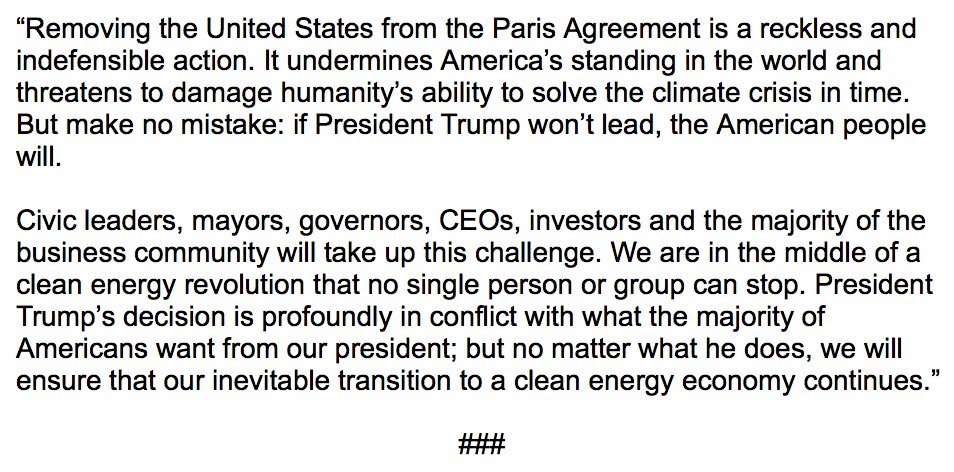 Former President Barack Obama released this statement following the withdrawal.
"A year and a half ago, the world came together in Paris around the first-ever global agreement to set the world on a low-carbon course and protect the world we leave to our children.
It was steady, principled American leadership on the world stage that made that achievement possible. It was bold American ambition that encouraged dozens of other nations to set their sights higher as well. And what made that leadership and ambition possible was America's private innovation and public investment in growing industries like wind and solar – industries that created some of the fastest new streams of good-paying jobs in recent years, and contributed to the longest streak of job creation in our history.
Simply put, the private sector already chose a low-carbon future. And for the nations that committed themselves to that future, the Paris Agreement opened the floodgates for businesses, scientists, and engineers to unleash high-tech, low-carbon investment and innovation on an unprecedented scale.
The nations that remain in the Paris Agreement will be the nations that reap the benefits in jobs and industries created. I believe the United States of America should be at the front of the pack. But even in the absence of American leadership; even as this Administration joins a small handful of nations that reject the future; I'm confident that our states, cities, and businesses will step up and do even more to lead the way, and help protect for future generations the one planet we've got."
But will anything change Mr Trump's mind? Your guess is as good as mine. One thing is certain, though, and that's the fact that we have the DNC and Hillary Clinton to thank for putting our own version of Mr Bean in the White House instead of a television studio.