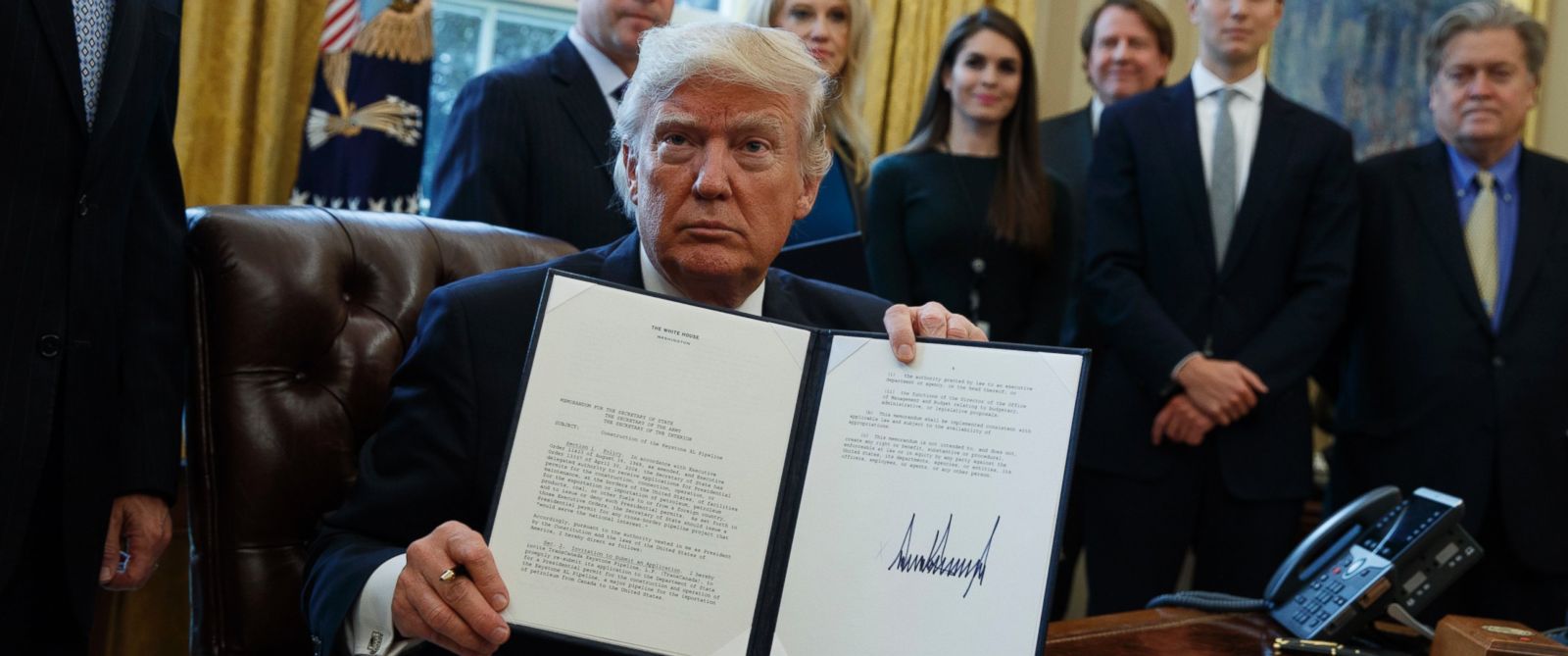 Like a flash, United States president, Donald Trump has spent one hundred days in the Oval Office, and like a mirage that vanishes suddenly, Americans are trying to figure out what his first hundred days has achieved for the country.
As a refresher for the people who can't place a finger on something he has done, below is a list of some of the things he has done. It's left to the reader to decide for themselves whether they've been positive or otherwise for the country and her people.
Mr Trump has been very busy signing executive orders, and issuing presidential proclamations and memoranda. Below is a list of them with some explanation on those I feel need further clarification.
An order and two memoranda empowering Treasury Secretary Mnuchin to move toward tax reform and end portions of the Dodd-Frank financial reform.
A memo ordering an investigation into whether foreign steel is hurting national security.
An order directing federal agencies to review the use of the H-1B visa program. 
Two orders on trade; one requesting the Commerce Dept. report on the factors behind the trade deficit and another seeking to increase collection of duties on imports. The first order directs the executive branch to produce a country-by-country, product-by-product report on trade deficits in 90 days, in order to figure out how to reduce the $500 billion trade deficit the US had in 2016. The second order seeks to strengthen the US response to its trade laws preventing counterfeit or illegal imports, citing "$2.3 billion in anti-dumping and countervailing duties" that the government hasn't collected.
An order establishing the President's Commission on Combating Drug Addiction and the Opioid Crisis. 
An order initiating a review of the Clean Power Plan, which restricted greenhouse gas emissions at coal-fired power plants. This is the order with which he dismantled many of ex president Obama's climate change protections.
An order revoking Obama-era executive orders on federal contracting. This order revoked Obama's fair pay and safe workplace orders.  In 2014, Obama signed an executive order requiring federal government contracts over $500,000 had to go to companies that hadn't violated labor laws. He signed two more orders making minor clarifications to that original order later that year and in 2016. Trump's order makes it that when companies bid for federal contracts, they'll no longer have to disclose if they've violated the Fair Labor Standards Act, the Occupational Safety and Health Act, the Migrant and Seasonal Agricultural Worker Protection Act, or the National Labor Relations Act. All things Obama's order made them do.
An order directing a top-to-bottom audit of the Executive Branch. With the written aim of improving the efficiency of the federal government, Trump signed an order to shake up the executive branch, and "eliminate or reorganize unnecessary or redundant federal agencies" identified in a 180-day review. Critics, including this writer, argue that Trump would not be able to effectively shrink the government, since many past presidents have tried and failed to do so. The fear is that Trump could use the order to dismantle federal agencies that he or his Cabinet members don't like.
A revised order suspending the refugee program and entry to the U.S. for travelers from several mostly Muslim countries, in response to objections from courts. As before, the order will suspend refugee entries for 120 days, but doesn't suspend Syrian refugees indefinitely and no longer includes Iraq in the named countries. In signing this order, the original one was revoked.
An order moving the HBCU (Historically Black College and Universities) offices back from the Department of Education to the White House. This order established the White House Initiative on Historically Black Colleges and Universities, which will aim to increase private funding of these schools, encourage more students to attend them, and identify ways the executive branch can help these institutions succeed.
An order requiring every agency to establish a Regulatory Reform Task Force to evaluate regulations and recommend rules for repeal or modification. This is the order with which he plans to kill regulations on businesses and leave consumers open to all kinds of exploitation. Of course, he says it's to end regulations that strangle job creation.
Three orders establishing three Department of Justice task forces to fight drug cartels, reduce violent crime and reduce attacks against police. This order seeks to create new laws that will protect law enforcement, and increase the penalties for crimes committed against them. It also directs the attorney general to review existing federal grant funding programs to law enforcement agencies, and recommend changes to the programs if they don't adequately protect law enforcement.
An order directing the Treasury secretary to review the 2010 Dodd-Frank financial regulatory law. This order could further water down an already weak Dodd-Frank regulation on Wall Street.
A memorandum instructing the Labor Department to delay implementing an Obama rule requiring financial professionals who are giving advice on retirement, and who charge commissions, to put their client's interests first.
An order instructing agencies that whenever they introduce a regulation, they must first abolish two others. The order states that for every one regulation the executive branch proposes, two must be identified to repeal. It also caps the spending on new regulations for 2017 at $0.
A memorandum to restructure the National Security Council and the Homeland Security Council.
A memorandum directing the Secretary of Defense to draw up a plan within 30 days to defeat ISIS. This memo was issued on January 28 and we're still waiting for the plan.
An order to lengthen the ban on administration officials working as lobbyists. There is now a 5 year-ban on officials becoming lobbyists after they leave government, and a lifetime ban on White House officials lobbying on behalf of a foreign government.But it also loosened some ethics restrictions that Obama put in place, decreasing the number of years executive branch employees had to wait since they had last been lobbyists from two years to one.   This is also the notorious "Drain the swamp" order.
An executive order imposing a 120-day suspension of the refugee program and a 90-day ban on travel to the U.S. from citizens of seven terror hot spots: Iraq, Iran, Syria, Libya, Yemen, Somalia and Sudan.
Two multi-pronged orders on border security and immigration enforcement including: the authorization of a U.S.-Mexico border wall; the stripping of federal grant money to sanctuary cities; hiring 5,000 more Border Patrol agents; ending "catch-and-release" policies for illegal immigrants; and reinstating local and state immigration enforcement partnerships.
A memorandum calling for a 30-day review of military readiness.
Two orders reviving the Keystone XL pipeline and Dakota Access pipelines. He also signed three other related orders that would: expedite the environmental permitting process for infrastructure projects related to the pipelines; direct the Commerce Department to streamline the manufacturing permitting process; and give the Commerce Department 180 days to maximize the use of U.S. steel in the pipeline. This is another anti environment order that gives the oil and gas companies a pass on environmental and climate responsibility. It basically says that there should be no environmental impact studies before permits are given to oil companies to build pipelines.
An order to reinstate the so-called "Mexico City Policy" – a ban on federal funds to international groups that perform abortions or lobby to legalize or promote abortion. The policy was instituted in 1984 by President Reagan, but has gone into and out of effect depending on the party in power in the White House. It basically prevents foreign non-governmental organisations that receive any US cash from "providing counselling or referrals for abortion or advocating for access to abortion services in their country", even if they do so with other funding.
A notice that the U.S. will begin withdrawing from the Trans-Pacific Partnership trade deal. Trump called the order "a great thing for the American worker.
An order imposing a hiring freeze for some federal government workers as a way to shrink the size of government. This excludes the military, as Trump noted at the signing.
An order that directs federal agencies to ease the "regulatory burdens" of ObamaCare. It orders agencies to "waive, defer, grant exemptions from, or delay the implementation of any provision or requirement" of ObamaCare that imposes a "fiscal burden on any State or a cost, fee, tax, penalty, or regulatory burden on individuals, families, healthcare providers, health insurers, patients, recipients of healthcare services, purchasers of health insurance, or makers of medical devices, products, or medications."
A memorandum notifying Congress of the US Syria strike
A memorandum signing letter on including Montenegro in NATO.
An order reviewing the "Waters of the United States" rule. The order directed federal agencies to revise the Clean Water Rule, a major regulation Obama issued in 2015 to clarify what areas are federally protected under the Clean Water Act. This is one of his numerous orders targeting Obama's environmental protection efforts. It's pertinent to remember that Trump's EPA Administrator Scott Pruitt called the rule "the greatest blow to private property rights the modern era has seen," in 2015, and led a multi-state lawsuit against it while he was Oklahoma's attorney general.
In between these executive orders, proclamations and memoranda, President Trump has found time to drop bombs in Syria and Afghanistan, and is currently saber rattling about dropping some more bombs in North Korea. He has also filled a vacant Supreme Court seat, and given his daughter a seat in the Oval Office and security clearance.
He even found time to war with the American media, calling them "enemy of the American people" and declaring some media outlets as bearing "fake news." He also declared the "court system" to be  a threat to national security, at one point.
All in all, you can definitely say that it's been a very active first hundred days in office for Mr Trump. Whether his actions have made America better or worse is now a matter of individual opinion.