A year into the Ukraine fight, American military aid has reached a staggering $30 billion, funding everything from night-vision goggles to Abrams tanks. Much of the weaponry was drawn from Pentagon stocks. Other systems must be produced in U.S. factories.
U.S. and NATO officials have touted the powerful effect of foreign arms on the battlefield, where they have enabled Ukrainian troops to hold Kremlin forces at bay and, in places like the southern city of Kherson, reverse Russian gains. But the armament effort also has rattled officials in the United States and Europe, depleting the military stockpiles of donor nations and revealing the gaps in their productive power.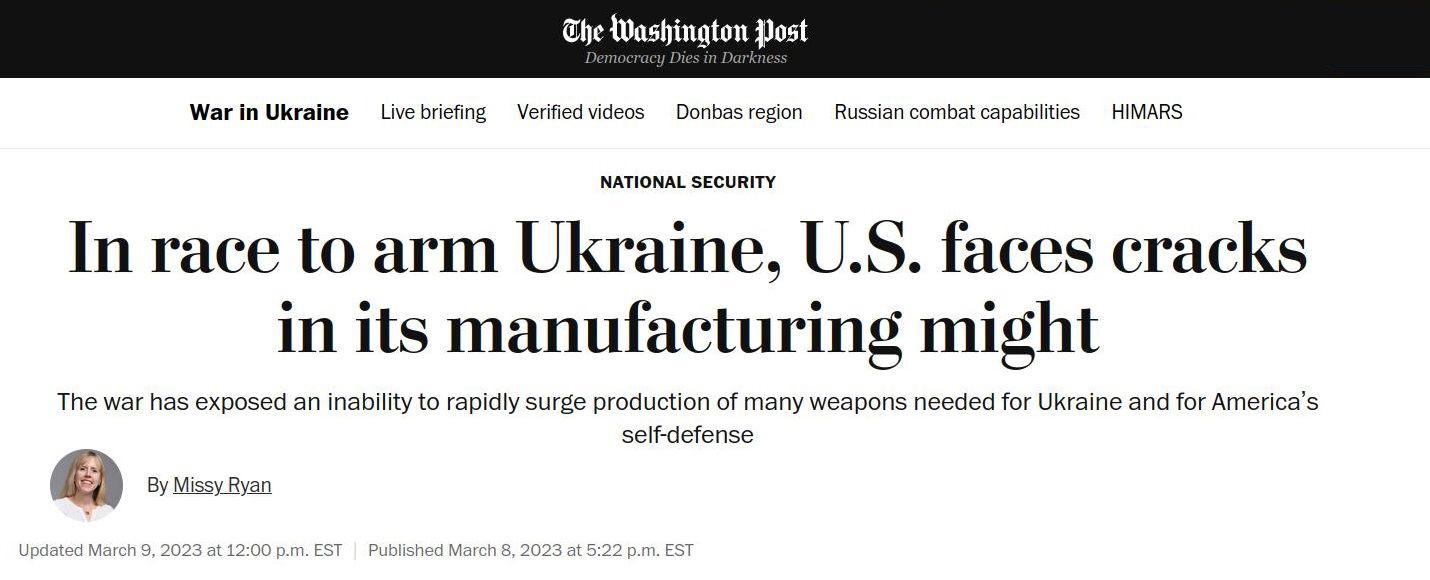 The public support for the vast sums of aid being given to Ukraine grows softer and more divisive. Some observers are worried the Pentagon is not doing enough to replenish the billions of dollars in armaments that have left American stocks.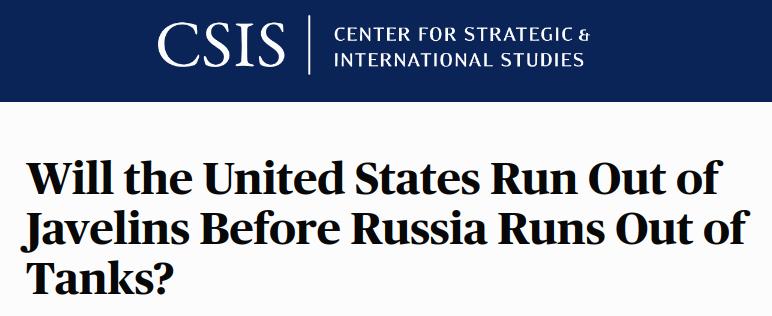 Research conducted by the Center for Strategic and International Studies (CSIS) shows the current output of American factories may be insufficient to prevent the depletion of stockpiles of key items the United States is providing Ukraine. Even at accelerated production rates, it is likely to take at least several years to recover the inventory of Javelin antitank missiles, Stinger surface-to-air missiles and other in-demand items. 
"It is a wake-up call," Sen. Jack Reed (D-R.I.), chairman of the Senate Armed Services Committee, said in an interview, referring to the production problems the war has exposed. "We have to have an industrial base that can respond very quickly." 
As the front lines have hardened during the frigid winter months, the ground war has become a bloody, artillery-heavy fight, with Ukrainian forces firing an average of 7,700 artillery shells a day, according to the Ukrainian military, greatly outpacing the U.S. prewar production rate of 14,000 155-mm rounds a month. In the first eight months after Russian's invasion, Ukrainian forces burned through 13 years worth of Stinger antiaircraft missiles and five years of Javelin missiles, according to Raytheon, which produces both weapons. 
"What the Ukraine conflict showed is that, frankly, our defense industrial base was not at the level that we needed it to be to generate munitions," told undersecretary of defense for policy Colin Kahl, pointing to the effort to accelerate output of artillery shells, guided rockets and other items.  
The problem is not limited to ammunition, nor to items being provided to Ukraine. According to Mark Cancian, a retired Marine officer and defense expert with CSIS, the pace of production at U.S. factories means it would take over 10 years to replace the U.S. fleet of UH-60 Black Hawk helicopters, and almost 20 years to replace the stock of advanced medium-range air-to-air missiles.  
In Europe, the problems are equally grave. NATO Secretary General Jens Stoltenberg warned in February that the wait time for large-caliber weapons has more than tripled, meaning items ordered now will not be delivered for over two years. In Germany, amid plans for a dramatic military expansion, its ammunition supply is believed to be sufficient for two days of fighting. To address those problems, European Union leaders are exploring ways to accelerate manufacturing, possibly by using advance-purchase agreements modeled on the race to develop a coronavirus vaccine. 

In Ukraine, the ammunition crunch is existential. In places like Bakhmut, where Ukrainian troops are locked in a grisly battle with Russian mercenary and military fighters, defending forces say they must ration artillery ammunition because they receive far less than they need. 
Fortunately for Kyiv, Russia, with its defense industry under severe sanctions, has a similar problem. According to Kyrylo Budanov, the Ukrainian military intelligence chief, the Kremlin has been forced to reduce the pace of air attacks due to dwindling stocks of key munitions, including the Kalibr and Kh-101 cruise missiles. Producing enough missiles for one major strike, he said recently, now takes up to two months. 
The challenge of replacing U.S. weapons supplied to Ukraine 
The war has exposed problems with the United States' capacity to speed the manufacture of arms required not only to help its allies but also for self-defense should conflict break out with Russia or China.   The war has exposed problems with the United States' capacity to speed the manufacture of arms required not only to help its allies but also for self-defense should conflict break out with Russia or China.  
The Pentagon used to design weapons programs so there would be at least two manufacturing sources, but over time it began to view that excess capacity as wasteful. Officials sought ways to maintain the competition in part by piggybacking off the commercial sector, but it did not always work.  
"We quit buying more than we needed," said David Berteau, a former Pentagon acquisition official who heads the Professional Services Council, an industry group. "We quit paying for more than we needed." 
It was easier to overlook production problems during the two decades of counterinsurgent war that followed the 9/11 attacks, when U.S. forces battled lightly armed militants in Iraq, Syria and Afghanistan. That is quickly changing with the demands posed by the large-scale conventional conflict underway now.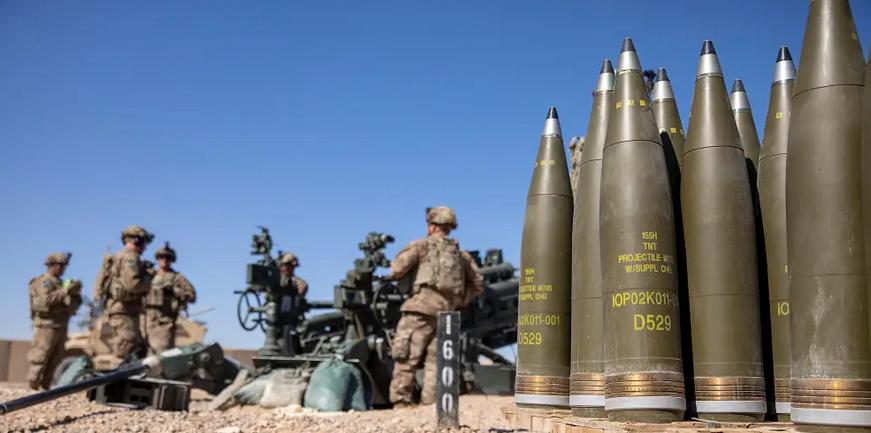 Officials note that production lags also are due to the fact that military equipment today is inherently more complicated to build than it was during World War II, when Ford could produce a plane an hour. Now weaponry often requires microelectronics and parts from dozens or hundreds of facilities. Lockheed Martin's F-35 stealth fighter, for one, contains 300,000 parts sourced from 1,700 suppliers. 
The Army now plans to boost its monthly capacity for producing 155-mm shells from about 14,000 now to 30,000 this spring, and eventually to 90,000. The military also is spending $80 million to bring a second source online for the Javelin missile's rocket motor, a key component, and plans to double production to around 4,000 a year. 
The Army recently signed a $1.2 billion contract for Raytheon to build six more units of national advanced surface-to-air defense systems, which are being used in the war in Ukraine to defend against Russian missile and drone attacks, but they will not be ready for another two years. 
Researchers note, however, that of the $45 billion Congress has appropriated for producing new weapons for Ukraine and replacing donated U.S. stocks, the Pentagon as of February had placed contracts for only around $7 billion, raising questions about whether it is moving fast enough. 
While support for defense spending is typically strong on Capitol Hill, backing for arming Ukraine has slipped, especially among Republicans. One recent poll showed that 40 percent of Republicans now believe the United States is giving too much aid to Ukraine, up from 9 percent last spring. 
And it is not clear how much more military spending, which already represents more than 3 percent of gross domestic product, Americans will countenance in an era of inflation and economic strain, no matter the rationale. At a recent hearing, Rep. Lisa C. McClain (R-Mich.), told Pentagon officials that voters in her district were worried about getting mired in a "never-ending war" in Ukraine.  
"They believe that we are spending money and resources on a fight overseas, rather than getting our own fiscal house in order," she said. 
At the Scranton munitions plant, which is operated by General Dynamics, long steel billets undergo a multiday transformation from burning-hot shafts of metal to finished artillery shells ready to be trucked to a plant in Iowa, where they are filled with explosives and dispatched for training or battle. It can be two to three months from when shells leave Scranton until they are ready to be used. 
President Biden has identified Scranton, his hometown, as a symbol of the erosion of American manufacturing power, vowing to make a reversal of that trend a signature of his administration. 
"When jobs move overseas, factories at home close down. Once-thriving cities and towns became shadows of what they used to be, and they lost a sense of their self-worth along the way," he said in late January. 
Since its apex in 1979, more than 7 million jobs have disappeared from the American manufacturing sector, over a third of its workforce. The defense sector has also shed a third of its workforce. Scranton Mayor Paige Cognetti said she hopes for added jobs at the Scranton plant, which now employs about 300 people, and other defense manufacturers in the area.  
The Ukraine scramble "has also given us some ideas of what we need to look at when it comes to Taiwan and China, because we have seen the need to surge," said Kea Matory, director of legislative policy at the National Defense Industrial Association. "So this is a good learning opportunity for us." 
It is not clear how much the Scranton facility, which already runs 24/7 during the week along with some weekend hours, can expand its manufacturing output. Plant officials said the pace of production has not accelerated since the Ukraine war began, and they are not aware of plans to ramp up operations. 
Therefore the hoped-for production transformation may not happen fast enough for Ukraine, as Kyiv braces for a massive springtime assault by Kremlin forces, the next conventional conflict could be far larger and more deadly.